Not always, we have got comfy shoes on our feet while standing and working for long hours in the office, right?
And that results in?
Fatigue, stress, and hence lesser productivity at work!
After extensive research, I came across a much better approach. That could not only be a relief from fatigue but could make your mood pleasant and hence your day a better one!  I'm talking about the best Anti fatigue mats for standing desks! I know many of you reaching out to this article might be having no idea what mats for standing desks actually are! And also' what characteristics to look for while selecting one for yourself.
Today in this article, I am going to drop clear cut solutions and characteristics of the 11 most comfortable anti fatigue mats for standing desks. So without any further ado, let's get to it!
10 Best Anti-Fatigue Mats for Standing Desk [Reviews 2020]
Keep in note that all of the 11 anti-fatigue mats included in this article are marketed as commercial-grade products. There may or may not be duped available, but the review is based upon the original manufactured product from the concerned brand. I wish you luck in choosing the best anti-fatigue mat!
You may also like to check out the best anti fatigue mats for kitchen.
PRODUCT
FEATURES
AVAILABILITY
Topo Comfort Mat
Dimensions: 26.2 x 29 inches
Thickness: 2.7 inches
Weight: 7.05 pounds

Royal Anti-Fatigue Comfort Mat
Dimensions: 39.8 x 20.3 inches
Thickness: 0.7 inches
Weight: 3.75 pounds
NewLife by GelPro
Dimensions: 20 x 32 inches
Thickness: 0.8 inches
Weight: 3.4 pounds
Sky Mats
Dimensions: 39 x 20 inches
Thickness: 0.5 inches
Weight: 4.05 pounds
Topo Mini by Ergodriven
Dimensions: 19.2 x 25.2 inches
Thickness: 2.5 inches
Weight: 4 pounds
CUBEFIT Terramat
Dimensions: 29.4 x 26 inches
Thickness: 3.5 inches
Weight: 5.51 pounds
VARIDESK Mat
Dimensions: 24 x 36 inches
Thickness: 0.7 inches
Weight: 6.17 pounds
Butterfly Ergonomic Mat
Dimensions: 36.2 x 24.8 inches
Thickness: 1.7 inches
Weight: 6 pounds
GORILLA GRIP
Dimensions: 32.4 x 20.2 inches
Thickness: 1 inches
Weight: 2.95 pounds
ComfiLife Anti Fatigue Mat
Dimensions: 32 x 20 inches
Thickness: 0.8 inches
Weight: 3.4 pounds
Kangaroo Original Mats
Dimensions: 29.1 x 19.7 inches
Thickness: 1.6 inches
Weight: 2.8 pounds
1. Topo Comfort – Best Anti Fatigue Mat for Standing Workstation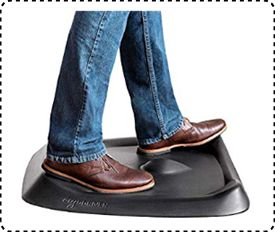 Ergodriven introduced new and more dynamic postures for you to work all day comfortably at your offices!
Now working while standing and moving away from your chair is not a big deal anymore. This mat from Topo has won many hearts and also was the first-ever Standing Desk mat introduced. Since 2016, people have been claiming it to be the best and top quality anti-fatigue mat.
Let's dig inside to find out more about it.
With comfortable rubber material, this mat has got enough weight to stay at its place while you move your feet around it from one place to the other.
The ergonomic topography is another amazing feature. Perfectly beveled edges and a slope high enough to hold both of your feet at a good place at the center of the mat.
This mat from Topo is available in four attractive and basic colors. The design is simple because it has to be placed in the office and definitely has to get a staple look.
The best part is you won't lose your balance while standing upon it' thanks to the enhanced stability efficiency that has been incorporated while crafting and composing this masterpiece. You can easily pull the mat out from under the desk using your foot since the rubber compresses from the edges, and then you can easily slide it back too.
PROS
Strong integral skin
Dense foaming inside
Attractive colors and designs
CONS
Can be punctured with heels
2. Royal Comfort Mat – Best Waterproof Anti Fatigue Mats
A major claim made by Royal regarding this anti-fatigue mat for standing desk is that it would not ever bend, flip or fold.
Well, after reading out plenty of reviews, I came to the conclusion that customers were not happy with the mat's stability efficiency. It was found to lose control if the user moves too quickly from one place to the other around it.
Since not all the customers had such experience and keeping in view its other amazing characteristics, I decided to place it in the top 11.
Scientifically proven, this anti-fatigue mat is capable of relieving about 40% of the pressure that you would feel upon your feet, knees, and lower back due to long hours standing. This means it can make you 2x more productive at work and hence promote a good office environment!
Hosting the standard thickness of 3/4 inches, it has got enough cushioning not to let your feet sink in but to provide you comfort at best.
This anti-fatigue for standing desks is available in three standard colors. It does not has high slope beveled edges but tilted enough to let station machinery pass over them with ease. It has got a 20 x 39 inches size, which is perfect when kept under a standing desk. A good choice to go for!
PROS
High fatigue relieve; scientifically proven
Good amount of bounce
Comfortable with shoes on
CONS
Lacks sufficient stability
3. NewLife by GelPro – Best Anti Fatigue Mats for Office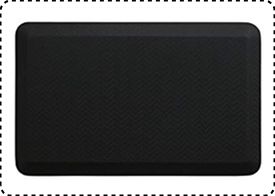 This anti fatigue mat by Gelpro has given much control in customer's hands to choose from 4 intelligently selected sizes and about 35 plus mat designs.
Ranging all types of patterns and colors, the high gradients for home styling and the dim designs for office purposes. Not only is the exterior, the interior is also worth appreciating too.
This mat has a thickness of 3/4 inches with an optimized amount of cushioning inside the mat. The rubber material is of good quality and would not produce bad odors when left unwashed for days. The mat is stain resistant too. If in case you suddenly drop your cup of coffee while working in the office and then start worrying about the stubborn stains!
Non-skid bottom surface ensures maximum safety and would not let you slip or trip over the mat. The edges are beveled, and you would be able to walk past machinery over it easily.
If you are selecting one for office use, to be kept under your standing desk, I would suggest you go with the plain solid colors. Rest is, obviously, your choice!
PROS
Well beveled edges to prevent trip hazards
Good amount of cushioning
Great grip to your feet
CONS
Not suitable for high heel shoes
4. Sky Mats Solutions – Best Comfortable Anti Fatigue Mat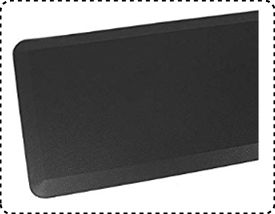 Sky Mats' as we all would be familiar with, has always tried its best to produce an item that could satisfy its customers and not let them complain even slightly.
I do not only appreciate their efforts in crafting and composing masterpieces, but their price range is also much affordable than many of the other high rated mats.
Let's dig into further features to know more about it.
Support and softness go parallel when it's about this anti-fatigue mat. The intelligently designed back cover of this mat has got enough friction and won't let the mat slip when you move your feet away from it.
Keep in note that the edges are not much perfectly beveled, and you may experience trouble while passing workstation machinery over it.
The mat is available in 3 varied sizes for you to choose from. 70 inches is the longest size you would get in this mat, and 3/4 inches is the thickness for all the three sizes available. It also has got 9 brilliant designs with one crosscheck pattern that is my absolute favorite! Do check out that blue diamond print and let me know if you liked it too?
PROS
High durability
Inner core is made up from high quality foam
Good patterns and designs
CONS
Might peel off from the upper layer if not used with care
5. Topo Comfort Mini – Best Small Standing Desk Anti Fatigue Mat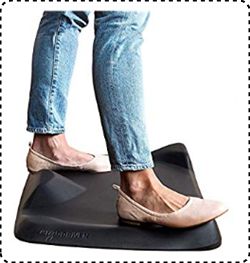 Most of us work at places where we have not been provided with a spacious area or a private cabin. In such situations, Huge sized anti-fatigue mats for standing workstation are literally of no use to us.
For this purpose, Topo has made sure to introduce commercial-grade products that could satisfy customers of varying demands. This mini mat by Topo is another wonderful creation by the brand.
The cushioned terrain of this mat provides a massaging feeling to the sole of your feet and is even more comfortable than placing your feet upon a 6 inches deep foam! This one also has ergo driver technology hence making sure to preserve nature while serving the creations.
The best thing I personally like out about this mat is, it does not only boosts up productivity level but encourages you to move around even more. The more you move, the more your feet would feel relaxed, and hence ultimately, you are going to be energized all day long at work!
This one too is available in four standard staple colors, which include Plain Black, Purple, Blue, and a dim Gray. Perfect to suit the office interior.
PROS
Comfortable cushioning
Ergo tech; good for the environment
A dim gray design to suit the office interior
CONS
Pointy shoes might lead to bottoming out of the mat
6. CUBEFIT Terramat | Best Anti Fatigue Mat for Sit Stand Desk
Have you ever seen an anti-fatigue mat that has got varied thickness along its length and has not got boring designs too? This piece from CubeFit has got a fantastic design and is one of the best kitchen mats for hardwood floors.
You are literally going to fall in love with the efforts done to manufacture the shape and structure of this mat. With 100% Phthalate-free material, it has got natural wear resistance properties and high shock absorption too.
The material of this mat is anti-bacterial and durable up to a maximum of 3 years. It has got 3 standards, black, brown, and gray colors, which are perfect for office use. You can avail of these mats in two size options; a large and a compact one.
Let me talk about its structuring too, which is the most prominent and distinctive feature of this mat. This mat has got some individual components, each made for a particular purpose. These include:
A full Balance Bar – To let you do calf raises
Two Massage Mounds – To massage the soles of your feet
Power Wedge – To stretch out your calves
Support Track – To stretch out your hip flexors
Acupuncture Pressure Peaks – To stimulate your feet
All of these components act together to provide you the most energetic day you could ever experience in your life!
PROS
Amazing structuring
Can be used for feet exercising purposes
Anti bacterial material; produces no bad odor
7. VARIDESK- Best Non Slip Anti Fatigue Mat
For all those looking for an economical and budget-friendly anti-fatigue mat for standing desk, this is your best bet!
Being a less priced does not at all mean that it would lack most of the properties that you would expect in your anti-fatigue mat. But, it is definitely not the best one out there in the market, because you know, YOU GET WHAT YOU PAY FOR!
It measures a full 24 x 36 inches hence covering an appropriate area beneath your standing desk. This mat is slip-resistant and has got nice friction enhanced bottom surface to let the mat stay in its place.
The edges are adequately beveled, and the cut is perfect enough to let your work station machinery move over them with ease. Durable mat cushioning and high-quality rubber material is what you are going to get inside this VariDesk standing desk anti-fatigue mat.
The most appreciated feature of this mat is the 5/8 inches thickness hence making it stand out amongst the standard 3/4 inches you would get in an anti-fatigue mat.
PROS
High quality rubber material inside
Integrated upper skin layer
Does not bottom out
CONS
Literally no cons for this one
8. Butterfly Ergonomic – Best Non Flat Anti Fatigue Mat
For all the working people out there, this Butterfly structured mat is made just for you!
This mat is not the PERFECT one for office use because it would not fit well with the interior.
However, you can use it as your personal equipment while working in the office.
The environmentally friendly and feet supporting foam is not much soft, so that your feet do not sink inside. It has got certain massage points on the interface; that can relax and soothe your feet to a greater extent.
It is engineered in such a way that the edges don't create trip hazards for the users and other employees around you in the office.
It is available in three colors. A plain black is perfect for using in the office. A bright purple that can be used at home or in the kitchens and a high gradient blue, which is the most attractive one amongst the three.
It has a thickness of 7/8 inches, which is good enough to provide high-level comfort to your feet, knees, and lower back. A MUST CHECK ANTI FATIGUE MAT FOR STANDING DESK!
PROS
Feet supporting foam material
Well engineered edges
Plain black is perfect for office use
CONS
Not suitable for pointy shoes
9. GORILLA GRIP – Phthalate Free Anti Fatigue Mat
Do you know what Gorilla Grip mats is known for?
Their outstanding durability! Gorilla grip' manufactures materials that would not lose grip or compress after a certain duration of time. They can last as long as up to 5 years long if taken proper care of. Also, the rubber and PVC combination is waterproof and can be vacuumed to clean it.
The surface is porous in order to avoid slip hazards. Beveled edges have been provided to the mat hence letting station machinery land safely over it and then' walk past it without any trouble.
However, one major drawback was reported is the lack of stability in this mat. This does not mean that it would not stay at its place but that it may not efficiently respond while you try to move from one part of the mat to the other.
It is available in 15 amazing designs. Some are plain solid colors, while others have staple patterns over them. I would rate the beige design highly favorite for office use because it has got a very professional aura.
7 sizes are available to choose from, each having the standard 3/4 inches thickness.
PROS
Plenty of designs and patterns available
Variety of sizes to choose from
Good quality rubber material inside
CONS
Foam may break down due to improper rough use
10. ComfiLife – Best Thick Anti Fatigue Floor Mat
I was wondering what is so special about Comfilife anti-fatigue mat for a standing desk and what made it get its place amongst the top 11?
I found out that this mat is on a price of dollars, even lesser than 40! Well, you must be thinking some compromise must have been done on the quality and specifications right?
No! Not at all!
I would personally choose this anti-fatigue mat for my office's standing desk if I am short on budget and cannot look out for the costly ones.
The mat is professionally engineered and has got certain pressure points upon the surface that could help in massaging your feet while you move around upon it. The thickness is standard 3/4 inches, but the cushioning is not too soft to let your feet sink inside the mat.
It has also got beveled edges that could prevent the user from all kinds of trip hazards. Fitted inside is the ergonomic technology; that is nature-friendly too, and you would not have to worry about the bad odors rubber mats usually produce with time.
Available in two standards; black and brown colors that would perfectly suit the office interior. FOR ALL THOSE WANTING TO SAVE SOME PENNIES; THIS IS THE ONE YOU SHOULD GO FOR!
PROS
Good price for such features
Massaging the feet too
Nature friendly- does not produce bad odor
11. Kangaroo Original – Best Anti Fatigue Mat for Concrete Floor
A stylish product, beautifully designed for your office; this one from kangaroo is another best anti fatigue mat for standing workstation. Designed with high-grade commercial materials, it won't disappoint you with its amazing durability property, too though if properly taken care of.
It is stain resistant, so do not worry if you accidentally drop your cup of tea or coffee upon it while working in the office.
The unique edges of Kangaroo anti-fatigue mat will keep you safe trip hazards, and the great stability efficiency would not let it slip from one place to the other. I would definitely appreciate the high-density foam that has been embedded inside the mat. It is dense enough to provide safety support and comfort to your feet.
A large variety of beautiful colors and patterns have also been provided for you to choose from. For office use, you can go with the black and grays because such tones would suit the office interior too.
Do check these mats out because these are one of the best anti fatigue mats for concrete and hardwood floors. You would find them great for office use as well!
PROS
Large variety of colors and patterns
Good quality foam inside
High rated brand; durability guaranteed
CONS
Does not support pointy shoes
Buyer's Guide: How to Choose the Best Standing Mat
Here I would drop down quick buyers guide on how to choose the best standing desk mats. Get along with me; follow the tips, and I bet you are going to end up choosing the perfect mat for yourself! So, let's go!
1. Check Out The Mat Response; With And Without Shoes
This is a very important tip that many of our buyers skip because they do not realize that their shoes might be a great hurdle in balancing out a good connection between the mat and their feet.
To make sure the mat you are going to get is fulfilling its primary purpose and is up to the expectations or not, try it out with and without shoes. The mat should be capable of responding great not only while you are not wearing shoes but also when you are wearing them.
This is because, during the office, while standing and working' the majority of the times, you will be wearing shoes. Make sure to judge your mat using this trick!
2. Do Not Just Fall For Long Warranties
I have seen buyers giving their hearts upon mats that have long durability properties though that is a significant must while you select a mat for your office use, but not the ONLY feature that should be checked.
Some mats have long life designs, but their material is not capable of providing you the same comfort and support that it was providing during its initial use. Such changes in material response are DEFINITELY not welcomed.
So, concentrate more on the material quality and its grip and then move on to durability and the design features.
3. Your Standing Desk Mat Should Not Be Slippery
Can you imagine dealing with slip hazards while working at a workstation?
NOT AT ALL!
That can even be injurious and rather would cause delays in your work than saving your time. While buying an anti-fatigue mat, do check out its bottom surface.
If it's well-textured drop it already, mats having smooth textures on their base are not useful for office use.
Go for the mats that have friction enhanced surfaces, are porous on the bottom, and have minimal smoothness.
4. Carefully Select The Mat Size
Almost all of the good quality mats come with a wide size variety. Make sure to check the size of your office space before selecting the mat's size for yourself.
Since you would be selecting a mat for standing desk, 24×36/30 would work fine, but some stations might have standing desks much greater in size. So this is all up to you! It is better to take proper measurements before getting a mat, rather than regretting later on upon the wrong size you end up choosing.
5. Your Mat Should Support All Standing Conditions
Obviously, you are not going to stand just in one position all day long.
Before purchasing a mat for yourself, try out whether you would be able to move here and there around on the mat comfortably. The mat should respond well, both in straight and sideways conditions. Such a mat would be perfect to use in the office underneath a standing desk.
FAQ's
Do you need an anti-fatigue mat for standing desk?
Who would like standing all day long for plenty of hours and working in the office upon a standing desk? Well' why to prefer such a hectic condition over easily obtained comfort? So I would say YES! You definitely need an anti-fatigue mat for a standing desk so that you can have a good day at the office without getting tired and stressful. This would also boost your energy and maximize your work productivity.
What is the best floor mat for standing all day?
A mat that can provide you support, comfort and can relieve your feet from fatigue, allowing you to stand in all positions during work, can be called as the best anti-fatigue mat for standing desk. Apart from this, good durability to last as long 2 years, high-density foam, and soft to stiff cushioning are some other features that can characterize a mat to be called as best!
Do anti fatigue mats really work?
Good quality, commercial-grade anti-fatigue mats, and those from well-rated brands do work great! However, the dupes in the markets are going to serve you nothing! If you want your anti-fatigue mat to really work, make sure to get an original product after proper research.
What is a standing mat?
A mat that is kept under a standing desk is called a standing mat. Such mats are usually placed in offices beneath standing desks to facilitate the employees and help them do their best without feeling fatigued and stress.
Flat or active mat which one is better?
I would call an active mat to be better than a flat mat. A flat mat has got certain slip beneath the surface, which may lead to trip hazards. However, an active mat has a friction enabled surface that makes it stay at its place all day long. We all demand mats that are non-slippery, and flat mats usually are slippery, so an active mat is better than a flat mat.
Final Words
This was all about the best anti-fatigue mats for the standing desk. I hope by now you would be clear which features to consider and which ones to drop off while choosing the best anti-fatigue mat for your office. In case you still have doubts, you are welcomed to drop your comments in the box below. I would love to help to choose you the best anti-fatigue mats for standing desk. The article will be updated if I get my eyes on some other fatigue mats for standing desk apart from these 11.