From interior designing to interior decorating, from a cheaply bought table to expensive polished wooden elements, you managed to pull it through. Perfected your home for the observers to see and mesmerize in the beauty each room holds within.
Now:
Once the design part is over, comes the part where you have to maintain the structure and beauty of the objects you so gladly purchased.
A small, yet important part of your home is your table. For common households, a question might frequently come to mind, which is, "How to protect a wood table from heat marks?
One of the ideal ways to protect wood table from heat marks is to use best heat resistant placemats.
How to Protect Wood Table from Heat Marks
We'll give you a solid answer to this question and many more in the upcoming sections!
Placemats; Saviors of the Wood from White Heat Stains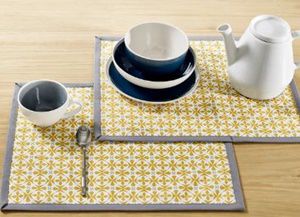 Let's first take a proactive approach, where we'll try to simply stop the heat stains from occurring in the first place. How is that possible?
An obvious but often forgotten solution; Placemats. From online stores to local marts, placemats are available in several different varieties, colors, and styles. All dependent on your personal preference.
Now, in order to protect a wood table from heat marks, you shouldn't hesitate for a moment and get placemats for your dining table which are made from a high-quality PVC material and are entirely heat-resistant.
You might be wondering:
What placemats are those? The ones we've just discussed.
Pauwer's placemats are probably the best placemats for wood table. With their extremely heat-resistant nature, they won't leave a mark if you decided to place a steaming hot plate or some pot on it.
Now, we're in no way telling you how to choose a placemats, but in case, you are looking for a recommendation.
This is it!
Pauwer's placemats are incredibly cheap for the quality and versatility they offer to the décor of your contemporary wooden table.
If you're hosting a small dinner for a few guests or simply wish to keep your wooden table safe from the heat marks and other scorches, placemats are generally the right fit.
But in case, you are about to host a large dinner, table cloths are generally the better option.
Here's the best part:
They are large and can cover the entire table, allowing you to place your beautiful (yet protective) placemats on the table.
Reactive Approaches; Stains on the Wood
The deed is done, your precious wooden table has a few weird heat spots on it and they don't seem to go away from simple rubs. Well, what to do now?
Here's the deal:
Wooden tables are not the best insulators and because of this very reason, heat can transfer through your hot plates or pots and into the table. What does it do?
You guessed it, an unwanted stain which won't go this easy, but rest assured, we've still got a few tricks in our sleeves and you shall be glad once you have known them all.
How to Remove White Spots from a Wooden Table
Tired of scratching your table, hoping these annoying cloudy stains would go away?
Here's a tried solution. To remove these scorch marks, simply take an iron and apply more heat to the stains.
Wait, what? Apply more heat to the table?
YES! As unlikely as it sounds, using an iron can help you easily remove heat stains from a wooden table top!
Follow the below given steps to get rid of white spots from wood table top:
Simply turn on your iron and set it to steam mode
Keep a towel over the discolored part of your wood
Press the iron on it.
Let it stay for a few seconds and remove it.
Voila! See any improvements in the condition of the wood?
You might think removing heat marks from wood with iron is a little aggressive, but it has proven to work in many cases, with many different types of woods.
Here is a video that show the removal of white marks from wooden table:
How to Remove Burn Marks from a Wooden Table
Burn marks, whether they are from the wax of a candle, a cigarette, a smoking hot pot, or even a hot cup of tea.
Let's be honest, they are incredibly unattractive and impact the looks of a polished wooden table.
Now,
How do you remove heat stains from a wooden table, all the while, keeping the looks and feels of the wooden table alive?
There are a few more ways you could achieve the initial state of the table and go back to being the owner of a clear table.
Let's have a look!
If you own a lacquered or a polished (finished) wooden table, your best bet is to mix and make a paste of non-gel toothpaste and baking soda.
Once you've made the paste, start applying it on the table until you feel the paste becomes slightly warm. Once you've reached the phase, stop and clean the table (also the paste) with a damp cloth.
If you feel you've not reached the desired result in the first try, give it another go! Once you're done, reapply furniture polish or oil and you might have another go at keeping your table sound and away from marks!
Here we are sharing another video tutorial that will help you in removing white stains from wooden table:
Conclusion
Although we've discussed both proactive and reactive approaches on ˜how to protect the wooden table from heat marks', our recommendation is to follow these measures at all times.
Pauwer placemats or any other vinyl (high-grade PVC material) placemats are probably the best placemats to protect a wooden table top from heat marks and will go a long way to provide you this protection!
How do you remove heat marks from wood table? Which technique you are going to opt for removal of white stains and burn marks after reading this write-up. Let us know in the comments section, as we love to hear from you.