For all those searching up for proper functioning, shock-absorbing, and comfort ensuring mats for gymnastics and aerobics, a durable gymnastics mat can be your next best choice!
Whether you are a pro gymnast or a skilled aerobic trainer or a beginner, you need to protect yourself from hard floor reactions during the gymnastics workout.
Otherwise, it may lead to unwanted bruises or in some cases excessive, injury!
Considering another essential fact that home gymnastics mats are relatively expensive, so it is better to do keen research before heading to purchase one.
To save your time and effort, I have put together the top ten best gymnastics mats for home use! So without any further ado, let's quickly get onto the instructive reviews!
You might be interested in checking out Best Yoga Mats for Sweaty Hands & Feet.
10 Best Gymnastics Mats for Home Use [Foldable & Inflatable]
Before getting onto the reviews of top rated gymnastics mats section, it is particularly essential to keep in mind the checklist before selecting to buy the perfect gymnastics mat. Some of the factors you should be well concerned about are the mat's thickness, sizing, padding material, and yes, your estimated budget!
PRODUCT
TOP FEATURES
SHOP NOW
1. BalanceFrom GoGym

Extra thick & large size
Moisture resistant surface
Good grip & traction

Check Price
2. Giantex Mat

Provide large exercise area
Offer decent cushioning
Easy to put away

Check Price
3. Polar Aurora

High density foam
Easy carriage & storage
Durable & long-lasting

Check Price
4. We Sell Mats

Toxic free material
Durable & cushioned padding
Very easy to clean

Check Price
5. Matladin Tri-fold

Thick comfortable surface
Shock absorbing protection
Waterproof & crack-resistant

Check Price
6. Gymmatsdirect

Top quality material
Thick & quite durable
Extra-large in size

Check Price
7. BalanceFrom Tri-Fold

Non-toxic lead-free material
Moisture resistant
Easy to clean

Check Price
8. BestMassage Mat

Multipurpose design
Sturdy & durable
Decent comfort & support

Check Price
9. Z ATHLETIC Mat

Very professional design
Hook & loop for extension
Highest quality & firm support

Check Price
10. FBSPORT Mat

Easy to inflate & deflate
Highly stretchable
100% waterproof

Check Price
1. BalanceFrom GoGym Foldable Gymnastics Mat
From all the other gymnastics mats, made solely to perform yoga and aerobics, this one proved to be the best!
You might be aware that for vigorous exercises, you must have a mat large enough to accommodate your body precisely during the various moves. Hence this BalanceForm's Gymnastics mat is undoubtedly going to be your top bet.
It has a nice defined size, measuring 10 feet in length and 4 feet in width.
Though the breadth sizing might be a problem for the beginners because they generally require more space for initial training, it is certainly best for a pro gymnast.
This thick gymnastics mat is composed of high-density EPE foam providing an average amount of cushioning; that would otherwise loosen your body tightness during exercise. Moreover, the base of the mat is puncture resistant and the top will not sink deep inside; when heavy pressure is applied.
The addition of Velcro on the edges of the mats makes it extremely easy for the user to hook the mats and get a large area to try a variety of positions.
The mat is super easy to clean and will not absorb any excessive moisture. Dry the mat in the open air after cleaning or washing, for better results.
Its foldable design makes it highly portable. Its portability feature along, with handles, makes its storage effortless and you can take it with you to perform outdoor training.
TIP: Make sure you cut your nails before landing on the mat because the black layer on the mat is a bit thin and loose therefore can be damaged with nails.
PROS
Soft and well-padded for rolling & stretching
Velcro makes hooking multiple mats easy
Foldable design makes storage easy
Very easy to clean
2. Giantex Gymnastics Mat – Extra Thick & Durable
If you are someone who is searching for a vibrant looking well- patterned gymnastics mat, Giantex is a better option to go for!
Now you cannot make a choice of purchasing a gymnastics mat just because of its attractive appearance! But you know what? The impressive features it possesses is also going to win your heart.
A blend of excellent quality EPE foaming and premium quality PU leather enhances its  level of comfort which any other exercising mat won't provide you.
Apart from being super tough on one end, the mat also has a 2-inch layer thickness to lessen the fatigue you might feel during the substantial workout activities.
A valuable addition of hand straps makes the carrying of the mat more convenient and uncomplicated for you.
I suggest you properly fold the mat after use because a rough fold might produce dents in the foaming material that could make the mat inefficient and dull in look.
So whether you are dancing, practicing martial arts, performing gymnastics, doing hot yoga, or any other workout, complete comfort, excellent grip with smooth body movement is ensured by this Gymnastics mat from Giantex.
Go on and check this one out; you also have a choice of choosing your favorite one out of 11 dazzling designs!
PROS
Ultra-thick and high-density foaming
Waterproof & tear-resistant
Carrying handles for easy transportation
Space-saving design
3. Polar Aurora Panel Mat for Gymnastics
This best mat for gymnastics from Polar Aurora, in particular, stands as the top-ranked for all the new gymnastic trainers. If you are wondering what makes me say such? Let me expose!
Unlike all other exercise and hot yoga mats that are constructed only from high-quality, dense EPE foaming, this one has also got a full cover of soft leather all around the mat's top.
This leathering does not disturb the mat's resiliency and firmness at all and make it
water, puncture and mildew resistant.
The base has got an elegant vinyl enclosure that prevents the bottom from breaking under heavy pressure. It may slide a bit when used on a wooden or tile floor.
It is constructed of 4 equal-sized panels,which make up the total length of the mat as approximately 10 feet.
You will also find Velcro Straps attached at either end of the mat. So if you need a larger space for dancing and other more massive gymnastic tasks, attach all the gymnastic mats and you are ready to go!
Apart from the convenient storage of large gymnastics mat the panels once folded will display two handles each sown at either end of the mat. So you can carry it easily to your workout studio as well as to your friend's place!
PROS
Made of eco-friendly & toxic-free material
Offer strong and comfortable support
Super easy to carry and store
Suitable for a variety of exercises
4. We Sell Mats " Best Tumbling Mat for Homes
Yet, another intelligently designed gymnastics mat capable of fulfilling all the purposes expected from a well-functioning exercise mat.
You know what is the best feature I found regarding this tumbling mat?
It can provide superior shock absorption, providing protection against severe falls and tumbles, hence ensuring a person's safety from any accidental injury.
The excessive use of vinyl at the base of the mat also makes the gymnast feel less fatigue as commonly felt upon a cushioned gymnastics mat. It is mainly designed for the pros but also serves best for beginners and kids.
It has four bright colors to choose from, with the standard average sizing of 10 feet x 4 feet. Though the mat's material is sturdy and durable, it may lose efficiency over time when used without proper maintenance.
With high portability, this gymnastics mat is also super easy to clean. All you have to do is use a low concentration soapy solution and wipe it over the mat's surface. After cleaning or washing, don't forget to dry the mat properly.
PROS
Extra thickness protects joints
Ultra-durable and sturdy construction
Foldable design makes it highly portable
Perfect for all family members
5. Matladin Tri-fold " Budget Friendly Gymnast Mat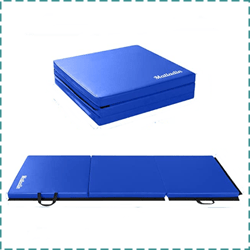 Highly affordable, lightweight, and easy to carry are the top features of this gymnastics mat from Matladin. It is a bit smaller in size but guarantees quality performance.
It is also best used as a padded mat or a gymnastics beam during aerobics training.
The mat is composed of EPE foaming, which is durable and sturdy enough to absorb excessive shocks produced during vigorous exercises. It will also provide enough comfort to your joints and bones, saving you from early fatigue that leads to giving up!
A PU Leather cover was also embedded at the top surface. It is 100% slip-resistant, though you have to take care of not letting any moisture be seated on the mat's surface. Such a condition can be hazardous for you and lead to significant injury.
Comfort and natural movement are guaranteed! Thanks to the superior quality construction and crack-resistant design. The entire set of materials used in producing this product are non-toxic; hence can also help your kid to learn to crawl at times where you are not using this mat for your workout purposes!
A multi-purpose heavy-duty gymnastics mat! Do check it out.
PROS
Foldable construction with carrying handle
Highly durable & comfortable
Very lightweight & portable
Budget-friendly
CONS
May slide a bit on the hardwood floor
6. Gymmatsdirect " Best Gymnastics Mat for Kids
Not all gymnastics mats are used by placing them laterally,' right? (Laterally here means horizontally' parallel to the floor)   But not all of them are efficient enough to be operated while placing them in the vertical position too!
This best gymnastics mat is one of its kind, capable of retaining its firmness and sturdiness even when placed parallel to the wall.
Featuring a thickness of 4" approximately, which is probably the maximum you will find in any other good quality padded designed mat. It would not be wrong if I named this mat
the best yoga mat for bad knees!
However, I will not suggest you get this mat if you are a pro gymnast. The high depth cushioning property of this mat won't let you do more of the tough moves with the best efficiency.
Environment friendliness was kept in mind while producing this mind; that's why it is free from all harmful chemicals. Its smooth surface is effortless to clean when dirty.
The top surface has been constructed using close cell technology not to let any moisture reach the interior. Also, two handles on each end of the mat let it be carried out comfortably from one place to another.
There are no fasteners attached to the corners of the panels; hence it cannot be attached to any other exercise mat for creating a more extensive workout area.
An excellent quality gymnastics training mat! Do not forget to check it once.
PROS
The padded design absorbs impact effectively
Suitable for all family members
Made of premium quality toxic-free material
Easily foldable with carrying handles
7. BalanceFrom Gymnastics Mat for Beginners
For all those looking for a budget-friendly gymnastics mat for their workout activities, this one is going to your ultimate favorite!
Trust me,' this is not an ordinary functioning gymnastic mat because it has got the guts to serve the kids and younger gymnasts up to their belief! Wondering how?
Featuring the random mat construction, with EPE foaming in the interior and vinyl covering at the bottom, this mat can sustain heavy loadings. The top has been well polished using the most beautiful quality leather so that it feels smooth to the knees and
wrists.
The mat is only 6 feet in length and 2 feet in width, with a thickness of approximately 2 inches. It has been divided into three panels for easy carrying and storing purposes. Since it does not contain any fasteners at the edges, it cannot be paired up with any other larger gymnastics mat.
Particularly best mat for kids, who have just learned crawling and young trainers who have just begun to skill themselves with the lighter, more natural aerobic moves. Available in bright pink, blue, purple, and solid black color, which will not fade away or lose its shine over time.
Durable enough to last for a couple of years, depending upon the maintenance and normal usage routine.
PROS
Beautiful foldable 3-panel design
Easy storage and transportation
Moisture & tear resistant
2-year BalanceFrom Warranty
8. BestMassage Gymnastics Mats for Back Handsprings
This Gymnastics mat has been mainly designed, keeping in mind the needs and demands of the pro-level gymnasts.
So whether you perform step aerobics, kickboxing, inline stretching, or any other advanced level exercise, satisfaction is guaranteed!
Its 2 inches thick, dense cushioning material protects your joints from excessive shock during the moves and steps. Though it is also covered in PU leather, the leather is not
thick enough to provide much soothing effect to your body parts, making you feel fatigue  and laziness earlier than otherwise.
The top surface of the mat remains slip-resistant until there is no moisture on the mat hence keeping you safe from slip hazards.
Be sure of drying it properly after cleaning since the material is not moisture absorbent, and any excessive wetness will cause hurdles during a workout.
The mat is light in weight and portable enough to be carried easily to your gym place.
Do not forget to panel it up after usage properly because unorganized folding will affect the overall appearance and functionality of the mat. Rest assured, a good one to go for!
PROS
Thick high-density EPE foam
High-quality PU leather covering
Multipurpose design
CONS
Not suitable for tall people
9. Z ATHLETIC Mat for Cheerleaders
Presenting the most professionally designed gymnastic mat, you have ever seen before!
Pondering whether the mat's appearance made me say so? Not at all!
I am so impressed with the effective standard size design and the heavy-duty construction technique in manufacturing this masterpiece!
This gymnastics mat comes up in a size of 8 feet x 4 feet. So it is neither too big nor too small! The cushioning inside is kept limited to 2 inches only as not to let the knee or the wrist be sunk inside the mat's interior during exercise.
Hook and loop fasteners have been provided on each side of the 8 feet long mat. You can remove the Velcro tape and attach any other workout   mat side to side with it in case you need more space for performing the advanced martial arts steps.
Durability is guaranteed! Polyethylene foaming, as well as the thin leather coating, have been tested before using in the mat, and they are entirely non-toxic.
The mat will also not give off any lousy odor when new or after a certain period of usage, keeping it clean and maintaining it in the required way.
Super comfortable and highly resilient! Do not forget to check this best exercise mat for the pro gymnasts out!
PROS
The extra thickness provides joint protection
Great padding and support
Mildew and puncture-resistant
Very easy to store
CONS
Covering is a bit loose at the corners
10. FBSPORT Inflatable Gymnastics Mat
Does not everyone love customization, particularly when it is about self-used products?
Considering it as a right of the customer; FBSPORT brought forward 10 highly exclusive sizing dimensions from about 10 feet length to as long as 40 feet!
It is not only available in the standard rectangular design, but they also manufacture eclipse shaped gymnastics mat.
Since it is an inflatable gymnastics mat, it has to be filled up with air before you can start putting it into use. The company is generous enough to send along an air pump as well, with which you can quickly pump air inside the mat! It will be all set up!
The mat is composed of a single material, which is 0.9mm in thickness but super smooth to not let your body joints be harmed when rubbed against the mat's skin accidentally.
Mat's material is not much effective when it is about shock absorption, but the air entrapped inside does have the capability to dissipate the high reaction produced during gymnastics moves and steps.
This best floor mat for home is particularly very effective for jumping and kickboxing but can be used for other workout techniques too.
Surprisingly! This gymnastics mat can also be used in your house's pool, too, since it is entirely waterproof! So all those fond of performing aerobic stunts over water; this mat is going to be your next gymnastics partner!
Ensures zero air leakage; bright and vibrant' just so pleasing to use! Do give it a look; you are going to like it.
PROS
It takes less than a minute to inflate and deflate
Zero air leakage due to excellent quality valve
Highly durable and thick material
Comes with a free air pump
CONS
A bit heavy to move when inflated
FAQs
How thick should a gymnastics mat be?
A good quality high performing gymnastic mat should be around 2 inches to 4 inches thick. However, a padding depth of less than two or a maximum of 1.8 inches is not recommended.
What can I use instead of a gymnastics mat?
A thick exercise mat can also be used instead of a gymnastics mat. Take full precautions and make sure that the gymnastic steps you do have the suitability to be performed on any other thick and firm matting surface.
Why are gymnastics mats so expensive?
Because of their superior, beautiful quality material construction, and large sizing; gymnastic mats tend to be a bit more costly than the exercise and yoga mats.
How much do gymnastics mats cost?
Depending upon the mat's size, quality, and purpose, a gymnastic mat can cost as low as $36 to as high as $320.
Can you use a yoga mat for gymnastics?
A lot of gyms nowadays use yoga and exercise mats interchangeably with the gymnastic mats. However, this is not recommended for the advanced level aerobic moves because yoga mats tend to be softer and smoother than the firm and sturdy gymnastic crash mats.
Are gymnastics mats waterproof?
Not necessarily. Gymnastic mats may or may not be waterproof, depending upon the company's product manufacturing techniques. Most of the gymnastic mats available nowadays in the market are waterproof and do not absorb moisture.
How to clean gymnastic mats?
It is effortless to clean the leather surfacing of gymnastic mats. All you have to do is to use a clean cloth paired up with saturated soapy material. After cleaning, make sure to dry the surface off properly.
Where to buy gymnastic mats?
Considering the current situation, we highly recommend everyone to order gymnastic mats and other workout equipment from popular online platforms like Walmart and Amazon.
Conclusion
Whether you are a cheerleader, gymnast, yogi, or a wrestler; it is always better to put forward and consider your needs and demands before deciding to choose the best gymnastic mats for home. You will not be able to find all your expected features in one single product, you can definitely find a much suitable and purpose-oriented product easily this way! Also, do not rush. Since gymnastic mats are costly, it is better to make a good, wise investment than to buy one in haste and regret later.