Placing a mat at the front door is necessary if you want to keep your house floors neat and tidy. The best dirt trapping door mats are the one that effectively captures all the traces of outdoor dust, sand, mud, snow, etc. and keeps your entryway free from mess.
You would be thinking selecting a front door mat is a very easy job, but in reality, it is not the case. When you decide to buy one, you will find a huge collection of doormat brands made of a different kind of material.
Here are some very common materials used for manufacturing indoor and outdoor mats:
Coir " A rough fiber
PVC
Rubber
It is recommended to buy a heavy-duty door mat and in this regard mats made of rough fibre works exceptionally well in brushing off dirt and mud from the tread of shoes. However, such mats won't be able to perform well against the rain, snow, and mud.
The other two types of mats PVC and rubber are highly slip-resistant, water-absorbent and gives a satisfactory performance in removing dirt, dust, sand, and pebbles. Additionally, these mats are pet friendly and very easy to clean.
You know what
Some of these door mats are machine washable as well!
To make things easier for you guys we have designed a list of aesthetical looking dirt-trapping outdoor and indoor mats. These rugs are highly affordable and do the job very well.
You might be interested in checking out the Best Kitchen Mats for Hardwood Floors.
10 Best Dirt Trapping Door Mats
Here is quick chart which include the best door mats for shoes. You can click on the check price button to order one right away.
PRODUCT
FEATURES
SHOP NOW
Sierra Concepts

Good for indoor & outdoor
Environmental friendly material
Slip-resistant backing

Check Price
Kempf Best Door Mat

Very beautiful design
Made of natural coco fiber
Capture dirt & moisture efficiently

Check Price
Fab Habitat

Beautiful handmade designs
Extra thick door mat
Capture all kind of dirt

Check Price
Kempf Door Mat

Made of natural coconut fibers
Provide decent protection to floors
Very easy to clean

Check Price
DEXI Low-Profile Mats

Good in capturing dirt from sole
Non-slip bottom prevent sliding
Beautiful low profile design

Check Price
Kaluns Entry Rug

Highly water absorbent
Non-slip back prevent sliding
Heavy-duty & durable entry rug

Check Price
Mibao Half Round

Odorless & eco-friendly material
Rubber beveled edges & back
Very easy to clean

Check Price
Biga Decorative Mat

Solid and durable construction
Beautiful 'Hello' greeting print
Decent ability to catch dirt & debris

Check Price
Bungalow Floor Mat

Good for indoor/outdoor
Slip-resistant bottom
Highly water absorbent

Check Price
Ritz Tufted

Non-slip front door mat
Brushes off dirt effectively
Available in different colors & sizes

Check Price
1. Sierra Concepts Front Door Entry Mats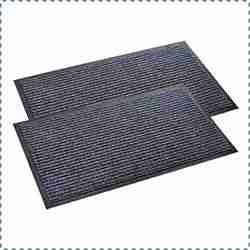 It is an attractive looking mat made of premium quality ribbed polyester and recycled rubber that works exceptionally well for the high traffic areas.
The package includes two entry floor mats in two different colors, and the best thing is the pack is highly affordable.
The dimension of 30 inches x 17 inches covers a decent area of your entryway, and its low profile design won't cause any trouble in opening and closing of the door.
The mat has an anti-slip backing that let the mat stay firm on its place when placed on a hardwood or tiled floor. Furthermore, the heavy-duty rubber material used on the back ensures the water doesn't pass through the surface of the mat.
Removing dirt and dust from the mat is also very easy. It can be done by shaking or tapping the mat against the wall, sweep with a broom. For deep cleaning, you can use a water hose, and after let the mat dry in the open air but keep one thing in mind once the mat is wet, it takes a lot of time to dry.
PROS
Made of eco-friendly premium material
Rugged ribbed polyester catch dirt effectively
Rubber backing prevents it from slipping
Easy maintenance, highly durable & versatile
CONS
After wash, drying takes a lot of time
2. Kempf Best Door Mats for Home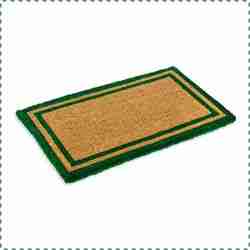 Using the Kempf doormat, you can easily keep your home floors free dirt and mud stains.
Its versatile design makes it suitable for both indoor and outdoor, and even you can use on the carpeted floor as well.
This doormat is made of 100% natural coco fibers, which makes the mat highly durable and environmental friendly.
The fiber material captures the dirt the moment you step your shoes on the mat.
In addition to premium quality material, the mat has a very eye-catching design and is available in two different color borders green and black.  The black one can also be used as a kitchen or bathroom mat.
The base of the mat is not slip-resistant but being bulky the mat that mat stays on its place and don't slip or slide around when you step on it.
To get rid of dirt and dust from the mat, you can use a broom, and if it has caught a stain, don't worry, you can wash the mat to get rid of it.
Your dear pet can also rest on the mat, but it is not effective against pet litter. For capturing pet dirt, we suggest to check out our detailed article on best cat litter mats.
PROS
Made of natural coconut fibers material
Rough surface efficiently capture dirt and dust
Has a non-slip bottom
CONS
Cause rashes if you step on it barefooted
Not good for pets
3. Fab Habitat Handmade Extra Thick Doormat
Next on the list, we have an extra-thick luxury front door mat.
I call it luxurious because of the stunning designs that enhance the overall look of your home entrance when it is placed indoor.
The mat is available has two different variants; low and high pile, and gives the user a choice to choose from 18 attractive designs.
Each mat is crafted with extensive care, and the company ensured to manufacture each
piece flawlessly.  Coir is the primary material used in the construction of this material, and the colors used for dying the fiber is environmentally friendly.
While choosing this mat to keep one thing in mind, its extra thickness can cause trouble in the opening and closing of the door. It is advised to take proper measurements before ordering this mat.
As the mat is designed with coconut fiber which is a bit hard and this natural feature of the material enhance mat's ability to capture dirt and mud more effectively compared to others.
To clean the dirt from the mat, you can use a stiff brush. Avoid washing the mat as doing so will ruin its look.
PROS
18 attractive handmade designs
Extra thickness increase durability
100% eco-friendly material
CONS
Colors & sizes may vary due to handmade construction
4. Kempf Door Mat for Cleaning Shoes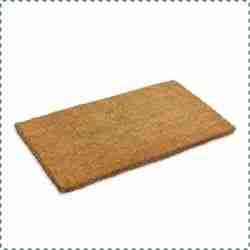 Here is another product from Kempf that joins the list of good quality door mats. This rug designed mat is available in 5 different sizes, making it easy for the buyer to choose the one that perfectly fits entrance.
As this mat is made of thick dried natural coconut fibers due to which color option is very limited and it is available only in tan color.
The color won't be a deal-breaker because it goes fine with all types of floorings, whether
it is tiled, carpeted, or hardwood floor.
The top surface of the mat is rough that enables the mat to scrape off all the dirt, grit, and grass from the boots. Moreover, the extra thickness of the mat prevents the leakage of moisture and keep your hallway remained cleaned and free from mud and dirt marks.
Someone who is looking for the best outdoor plain doormats, this mat is their best bet because it has the ability to withstand tough weather conditions, i.e. heat, rain, snow or mud. The aesthetic look of the mat makes it suitable for home, office, and shops as well.
PROS
Highly durable and comfortable mat
Made of biodegradable natural material
Available in five different sizes
Easy to wash and dries quickly
CONS
Coco shreds starts shedding if not properly maintained
5. DEXI Low-Profile Mats for Entry Door
This is one of the most beautiful entry door mats in the list. Apart, from the front door of the house, you can place DEXI's low profile mat at the entrance of the kitchen or bathroom.
The company offers buyer a choice of five different sizes with seven different designs and colors.  All the material used for constructing this mat is toxic-free.
The top layer of this entrance rug is made of polypropylene fabric, and the base is of
rubber.  Both materials are highly environmentally friendly, and their usage is safe for all family members, including pets.
The patterned grooves on top of the mat capture dirt and dust not only from the shoes sole but also from the cat and dog paws, saving the cost of pet litter mats.
Rubber on the back forms excellent grip when the mat is placed on a smooth floor, saving you from accidents like slip and fall. Moreover, this feature also doesn't let any liquid pass through the surface of the mat.
For cleaning purpose, you can use a broom, vacuum cleaner, or shake the mat to remove dirt, dust, and sand. Also, give it a deep cleaning once in a month to maintain the overall look of the mat.
PROS
Premium grade environmental friendly material
Rubber backing prevent slip and slide
Liquid won't pass through the mat
Extremely easy to clean
6. Kaluns Entry Rug with Waterproof Backing
Kaluns entry rug prevents dirt, sand, mud and moisture from entering your home by brushing off everything from your shoes that can destroy the look of your floor.
It is an all-purpose mat which means you can use this beautiful piece as a kitchen mat, dog mat, living room, garage, and for commercial purpose as well.
Its style and functionality won't disappoint you at all, no matter wherever you place it in the home.
Threads that you will find on the front side are made of 100% polyester, and they are very good at catching dirt, mud, and snow from the shoes. To prevent moisture leakage, sliding, and scuffing the manufacturer has cleverly installed the anti-slip PVC material.
Its low profile design won't obstruct the opening and closing of the door at all. The mat is available in three sizes and eight different colors, giving users a choice to select the one that perfectly complements their flooring and home décor.
One of the most exciting features that give more trust to the buyer is the full one-year money-back guarantee. Buy with trust, and if you are not satisfied return it right away.
PROS
Low profile design prevent door obstruction
Anti-slip backing ensures safety
Super water absorbent and machine washable
Variety of colors and sizes
CONS
Colors of the mat are not accurate
Mat is a bit thin
7. Mibao Half Round Door Mat for Entrance
If you are searching for a stylish front door mat, your search ends here. Mibao half-round entrance mat can enhance the beauty of your home entryway.
This cool looking mat is a mixture of eco-friendly rubber and polypropylene material. Its sturdy formation using the upgraded technology guarantees its durability and you can expect and an all-round performance from it.
The rugged surface of the mat won't let any dirt, dust, and debris to pass through the mat.
It will capture everything attached the sole of the boot.
Premium grade rubber has been used to construct the back of the mat, which plays a vital role in holding the mat on the floor. Additionally, rubber made beveled corners prevent the dirt and dust from scattering in the house.
Its low pile design prevents it from stucking underneath the door. The mat is available in two different colors that are suitable for both indoor and outdoor usage. Maintenance of mat is also very easy and doesn't require any expense solutions for cleaning.
PROS
Beautiful and stylish design
Brushes off dirt and debris efficiently
Rubber back won't let it slip or slide
Won't cause trouble in door opening
CONS
Not good at absorbing water
8. Biga Decorative Greeting Door Mats
It is time to welcome your guests with a special greeting front door mat from BIGA. This elegant mat greets your guests with a big ˜Hello' font on its top.
Biga outdoor mat is manufactured using the top quality polyethylene and TPR and doesn't contain any element that is harmful to the environment.
Quality craftsmanship of the company makes this mat highly durable and an excellent
choice for high traffic areas.
When it comes to sweeping dirt, debris, mud, and snow from the shoes, it does the job  very well and ensures your beautiful looking floor doesn't catch any bad mark of footsteps.
To ensure the safety of a person who steps on the mat, the back of this best entrance rug for home has been kept slip-resistant eliminating the risk of slip accident.
Maintenance of the mat is super easy; you can use either vacuum clean the mat or wash it using the hose. Don't worry, washing won't fade the color of the mat. It is available in 3 different colors and sizes to buy the one that matches your home décor.
PROS
Has stunning greeting design
Highly durable & solid crafting
Best for home, office, & shop
Super easy to clean
CONS
Not good for barefoot
Not suitable for big entrance area
9. Bungalow Flooring Dirt and Sand Trapping Door Mats
People who are looking for a large size highly water absorbent doormat, this is their best bet. It is a mat made of post-consumer plastic which enables it to absorb approx. 1.3 gallons of water.
The aesthetic greeting font of ˜Hello' on the front warmly welcomes every single person coming to your home. Additionally, it holds all the water, dirt, and debris on its surface and won't let it ruin your flooring.
Its highly sturdy construction makes it capable of withstanding tough conditions and
saves it from tearing and mildew. The recycled SBR rubber used on the back of the mat grips the floor very well and prevent it from sliding around.
Size of the mat is approx.. 35 inches long and 23 inches wide, making it suitable for medium to large entryways. The available color options are bluestone, charcoal, dark brown, green, grey, and khaki.
As per my opinion khaki and dark brown are good because dirt and dust won't be visible on these colors.
PROS
Suitable for all types of floorings
Made of top quality consumer plastic
Rubber back grips the floor very well
Durable and easy to maintain
10. Ritz Tufted Non Slip Door Mat
Next in the list, we have a mat with anti-slip latex backing which ensures the safety of the user by preventing slips and skids when you step inside your house.
When it comes to construction of the mat, it is formed using a top-quality nylon loop. The design has overlock stitches around the edges to ensure its durability, and the mat serves you for a longer period of time.
Its rug like surface brushes off the dirt, mud, and snow from the sole of the boots and keep the hallway clean.
Placement of the mat is not only limited to front doors only, but its elegant design also complements your kitchen accessories and look cool in the TV lounge as well. Place it anywhere in the house, and its look won't disappoint you at all.
The color of the rug won't fade away, and the material is highly resistant to stains; that's why it requires very low maintenance. Shake the mat to remove the dirt, and you can also wash the mat once in a while.
PROS
Made of highly durable & long-lasting material
Latex backing prevent mat from slipping
Can be used in kitchens, hallways, and bathrooms
Rugged design remove dirt and dust from shoes
CONS
Top of the mat becomes slippery when wet
Final Words
To sum up, the best dirt trapping door mats are essential for every homeowner who want to prevent scattering of dirt, dust, debris, sand and protect floors from snow and marks. There is a huge variety of mats, but every piece of the rug is not good at trapping dirt; that's why we have to compile this list. All the above shared front doormats are good at capturing dirt, but you need to pick one that fits your needs. Do share your experience of buying an entrance mat.